TVET UK News
Helping to build the New Libya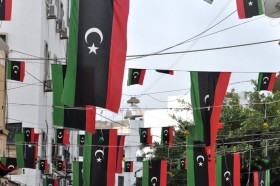 TVET UK signs first Libya-UK MoU for vocational and technical education sector
Working on behalf of UK VET providers and suppliers, TVET UK has signed an Memorandum of Understanding (MoU) with Libyan Board for Technical and Vocational Education (NBTVE), which aims to facilitate partnerships and exchanges between Libya and UK national VET agencies in order 'to help build the necessary and appropriate industrial trades and technical skills capability and capacity for current and future social, economic and industry demands in Libya.'
Providing education and skills training for Libya's young population, over 70% of which is under the age of 30, is a core priority across all sectors as Libya looks to develop and diversify its economy. NBTVE, part of the Ministry of Higher Education & Scientific Research, is responsible for more than 100 higher education colleges and technical institutes across the country and is looking to start afresh with a new fit-for-purpose VET system, developed with the support of international experts.
There is overwhelming support for reform and the funding is in place – now we need to help the Ministry to turn intention into action.
Alan McArthur, Executive Director TVET UK, who was leading the UK delegation during which the MoU was signed, explains the situation; 'Building capability is an absolute priority for the Ministry. At the moment, teaching staff have an academic background and approach, and limited industrial experience and this is reflected in the curriculum.  Many colleges are empty shells, damaged during the uprising, while others are packed with state-of-the-art equipment with the covers still on and no one able to use it.
'With regards to the current workforce, there is a high rate of unemployment, bolstered by high numbers of ex-militia seeking work, and an over reliance on the public sector. Around 80% of those currently in employment are working in the public sector and the government hopes to reduce this by relocating workers into the private sector. However, these individuals will need to develop a range of new skills if the transition is to be a success.
'There is a pressing need to reform infrastructure and develop a new quality assured framework with relevant, reliable qualifications. There is overwhelming support for reform and the funding is in place – now we need to help the Ministry to turn intention into action.'
Opening up to UK experience and expertise
Libya has traditionally been a difficult market for overseas organisations to enter, although there have been established links with the British Council and with UK companies in the oil and gas sector. The government is now looking outwards for support for a number of reform programmes and initiatives. These include projects being rung by the Warrior Affairs Commission, which aim to train ex-militia in colleges in a number of countries.
There are opportunities for organisations from around the world but, as Alan advises: 'The UK technical and vocational education system is highly regarded as it is employer- led and extremely flexible – working with clients to develop a comprehensive, tailor-made solution that's the right fit for them, rather than trying to apply rigid 'off -the- peg' structures.'
TVET UK has built a strong relationship with NBTVE over the two years that they have been working together, and it is now a preferred supplier for the VET system in Libya.  Following this latest UK delegation to Libya, TVET UK will be working with a range of UK providers and suppliers to set up workshops in a number of areas, including skills auditing and quality assurance.
Alan says: 'With Libya, things don't happen overnight and it is important to build a good relationship and establish mutual trust. There has been, and will continue to be, a lot of groundwork to do but I am confident that this MoU will bring with it real and exciting opportunities across the UK TVET sector.'
Libyian Flags Photo ©: rm / Shutterstock.com

@TVETUK
Upcoming Events
There are currently no upcoming events.