Case Study: CIEH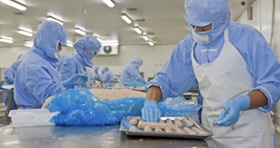 'It could take years to find right person working alone – TVET UK take you straight there.'
David Denton, Director of International Business Development, The Chartered Institute of Environmental Health (CIEH)
The Chartered Institute of Environmental Health (CIEH) currently accounts for over 90% of the accredited food safety training and qualifications market in the UK. With an established reputation for quality and service to members and customers alike, the Institute is now looking to extend into new territories and markets, where sharing knowledge and experience can raise and maintain appropriate health and safety standards.
Director of International Business Development, David Denton, has found that working with TVET UK provided the CIEH with valuable insight into viable markets and enabled him to meet and build relationships with potential customers and partners. David explains: 'Working independently, we tended to take an opportunistic approach, following up on news items or reports, or relying on chance introductions. I wanted to develop a more structured approach and so contacted TVET UK. As soon as I met Director, Alan McArthur, I knew he was the one who could fill the gap! There was a really good match between TVET UK's offer and CIEH's need. They regularly circulate valid enquiries to their members and we pick up those of interest to CIEH. Now, rather than seeking out opportunities – they come to us.'
In May 2009, TVET UK organised a visit from a delegation from Chongqing, a thriving industrial region in South West China, some of whom were seeking partners for Health and Safety programmes. David and his Project Manager, Weijie Tilbrook, were briefed beforehand by Alan and developed a strategy for this market. They delivered a presentation for the delegates that led to a major, long-term contract to improve health and safety performance via a series of 10- day courses aimed at enterprise managers and health and safety regulators. There are a number of UK companies involved in the delivery of the training and online testing, including fellow TVET UK members, TTE Training. CIEH will be the examining board, and having signed an MOU in 2009, delivered the first phase of the project in July 2010 with more sessions planned in 2011.
'There was a really good match between TVET UK's offer and CIEH's need. Now, rather than seeking out opportunities – they come to us.'
David is keen to point out that the role of TVET UK goes beyond providing commercial opportunities. He says: 'Overseas work is very exciting but can be unpredictable. This project has had a few teething problems, mainly due to cultural issues, but TVET UK helped to keep things moving. They worked closely with the British Consulate to build a positive mutually beneficial relationship between the parties involved. They also provided invaluable advice on how to work in China. They are extremely resourceful and very well connected; a real asset for members working overseas.'
Spurred by their initial success, David and the team are returning to Chongqing to look at opportunities for raising standards in occupational medicine, with TVET UK still very much involved. The relationship with Chongqing has further developed, and a new Framework Agreement was signed in October 2010 to exchange knowledge and experience in occupational health and hygiene. An agreement with Chongqing University of Science and Technology involving curriculum development and student exchanges underpins this new relationship.
The CIEH is also looking at potential projects in a number of new markets, including Saudi Arabia, India and Vietnam. Through TVET UK, they have met with the organisers of the Hajj, the largest annual pilgrimage in the world, with a view to delivering essential food handling training, and TVET UK is also helping to find suitable partners to deliver the training and working with the British Embassy to gain the appropriate permissions.
For David and the CIEH, TVET UK is 'not just about providing real opportunities and introducing members to the people with the budgets, it's about the whole relationship. They really keep things moving.'

@TVETUK
Upcoming Events
There are currently no upcoming events.