Case Study: Pearson Qualifications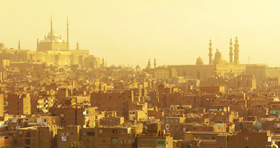 'TVET UK provides us with profitable commercial projects and the partners to help us to deliver them'
Jason Gregory, Director of Learning Solutions Pearson
One of the key benefits of TVET UK membership is access to organisations tendering for viable profitable, commercial projects that can be delivered singlehandedly, or in partnership with other TVET UK members.
One such project is the planning and development of 11 Integrated Technical Education Cluster across Egypt; a multi-million pound project being delivered by Edexcel and partners, in collaboration with the Egyptian Cabinet of Ministers' Education Development Fund.
Jason Gregory, Director of Learning Solutions is heading up the project for Pearson Qualifications, part of Pearson Education, a global organisation delivering a range of learning solutions to an international market including qualifications, learning materials, teaching and professional services and learning technology. Jason has identified and developed a number of projects since joining TVET UK in October 2007. He says: 'We had two main reasons for joining TVET UK; their ability to identify and source new business and then engage with international government and ministries to open doors, and the opportunity to network and identify potential partners to work with from among their membership. We have several on-going investigations and leads in Kazakhstan, Saudi and Bahrain and India, and this is the first to take off in such a big way. We are two years into a seven year contract that has already delivered more than two million pounds to the project team. '
TVET UK has helped find appropriate partners from its membership to successfully deliver the complete package from strategy to quality assessment.
The project aims to meet industry needs across Egypt, and make a significant contribution to its future economic prosperity, by improving the skills, ability and knowledge of current and future technicians and engineers across the country. This will be achieved through the development of specialist centres of excellence that offer effective and seamless training and education for students from the age of 14 through to higher education. Each cluster will consist of a technical school, technical college, training centre and teacher training college – all on the same site.
Edexcel is leading on the project: Jason describes their role as 'turning strategy into reality.' TVET UK has helped Jason to find appropriate partners from its membership to successfully deliver the complete package from strategy to quality assessment. Pearson Qualifications and Pearson Custom Publications are providing training, qualifications, teaching materials and assessment, and they have now contracted Bradford College for quality assurance, training and support and are working with educational equipment suppliers, LJ Create, and an Egyptian agent to secure equipment supply contracts. The first cluster was launched in El Ameeria, Cairo in September 2009, specialising in mechanical, electrical, automotive engineering and mechatronics, and now has more than 1,000 students enrolled on customised First, National and Higher National BTEC programmes.
The project predates Arab Spring, which has led to some delays, but Dr Medhat El Hadek, Project Director of the Education Development Fund, is keen to is set to continue under the new regime and says: 'This is part of changing the image of technical education in Egypt. We are working very closely with our valued partners from Pearson to meet these objectives.'

@TVETUK
Upcoming Events
There are currently no upcoming events.