Case Study: Stevenson College Edinburgh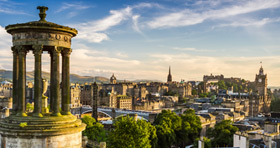 No matter how experienced you are, TVET UK can get you further, faster
'The TVET UK team does the ground work, and we feel confident that we can move into these markets and achieve more in shorter timescale than we would working alone.'
Many technical and vocational education providers and suppliers find that working with TVET UK is great way to gain confidence, enter new markets and build relationships so as to develop business internationally. It provides the intelligence, experience and support that organisations need to get started in international business development, or to work with other providers on larger, more high profile projects than they would usually be able to deliver. But colleges and providers with a wealth of experience in international business development can also benefit from working with TVET UK.
Stevenson College in Edinburgh is working successfully in a number of international markets and offers a wide range of programmes, which includes student recruitment, training provision in-country and transnational partnership projects. Emma Meredith, Head of International at the college, has more than ten years' experience in international marketing and business development and says: 'Both I and the college embrace international business with open arms. The college has one the largest ESOL departments in the country and a long history of welcoming students from other countries, thanks in part to Edinburgh being an international city and a popular destination worldwide.'
Emma says she chose to work with TVET UK as it offered an opportunity to work in partnership with leading providers across the sector: 'You can't do everything yourself, so collaboration and partnership are very important.
'We've been working with TVET UK for a few years now and have always taken advantage of TVET UK's government contacts when going on trade missions. Because TVET UK works with UKTI and government departments, it has an excellent reputation in the right areas and can access the right people. However, in the last year have been working much more closely with the TVET UK team and have built up good networks and opportunities, which have crystallised into sustainable commercial projects.
Emma says she chose to work with TVET UK as it offered an opportunity to work in partnership with leading providers across the sector.
'TVET UK also identifies viable opportunities in markets that we would not normally think of working in.  The TVET UK team does the ground work, and we feel confident that we can move into these markets and achieve more in shorter timescale than we would working alone.'
This summer the College has been hosting a 'training the trainer' programme for IELTS teacher from Kurdistan. This project is the result of a TVET UK trade mission to Erbil in Spring 2011. Craig Wilson, Vice Principal for Corporate Development, made contact with Cihan University, who followed up the initial meeting with a visit to Edinburgh to discuss English Language training. Emma then undertook a training needs analysis at the university in November  and finalised the programme.
Having completed this first project, Emma is confident that  Stevenson College can develop further business in Kurdistan, but realises that it is up to her and her team to build on the contacts they have made through TVET UK . She says: 'Once TVET UK made the introductions, Stevenson College did the rest. TVET UK has its specialisms and expertise, we have ours. You have to put the work in and not waste these opportunities. You need to get on with it.
'Kurdistan, part of Iraq, has been through difficult times and things are opening up and moving quickly. TVET UK has kept its eye on the ball and is identifying promising emerging markets. We participate in their missions as we know we will make appropriate contacts. And, because we have worked with TVET UK over the years, they  know what we offer and what we are capable of and call on us when the right opportunities arise – for example, Craig was recently invited to accompany John Hayes, Minister of State for Skills, on a high profile mission to Saudi Arabia.'
Stevenson College is in advanced stages of merger with longstanding TVET UK member Edinburgh's Telford College and Jewel and Esk College, and Emma says she is 'looking forward to continuing to working with TVET UK, as Edinburgh College, in the future.'

@TVETUK
Upcoming Events
There are currently no upcoming events.