Case Study: TTE Technical Training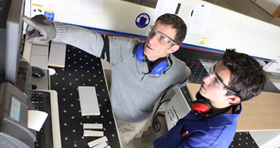 'The leads we get from TVET UK are high quality, relevant and pitched at the right level'
Why would a company with an outstanding track record of international business success look to TVET UK for help?
'In a nutshell' says Nigel Ellenor, International Technical Sales Consultant at TTE Technical Training, 'it's because TVET UK specialises in education and skills training, brings quality assured leads, and does the spadework – so that TTE doesn't need to!'
"Because TVET UK specialises in education and skills training, it brings quality assured leads, and does the spadework"
TTE Technical Training has been involved in numerous successful projects overseas. There is a TTE office in Dubai serving the Gulf with contracts being delivered in Oman, Dubai and Abu Dhabi. And it has been training Shell Libya maintenance technicians in the UK, and latterly in-country, since 1996. Elsewhere, the company won a BP tender in 2003 to design and build a specialist training centre for oil and gas technicians working in Azerbaijan, working alongside Petrofac. And to date, they have trained around 2500 unskilled nationals, contributing to the prosperity of the people of Baku. In West Africa, TTE operates in Equatorial Guinea and the Jubilee Oil Field off the coast of Ghana, and is fast becoming recognised and respected for its work in Nigeria.
However, Nigel advises that for a number of reasons developing international business is becoming increasingly difficult. He says: 'Markets are getting harder for us. Fewer overseas employees are able to train in the UK and those that do travel are also increasingly more likely to complete an academic course. Looking on the bright side though – more in-country vocational training means opening more training centres and more opportunities to grow in those markets. But it also means that TTE has to work harder.'
Looking for some help in an increasingly competitive market, Nigel came across TVET UK. He says: 'The joining fee seemed reasonable so I decided to give them a go! I was quite surprised that within just a couple of weeks Alan McArthur had opened doors for us and we won a British High Commission contract to deliver electrician training to their employees in Lagos.'
Since then, working with Alan, TTE has submitted expressions of interest for a number of projects in Nigeria, including the Amnesty Programme. Nigel says: 'The publicity around that project meant that we were inundated with emails from 'sudden start up' consultants and agents. But with TVET UK you know who you are working with; they linked us with a Nigerian consultancy that has been vetted by the UKTI in Lagos so we know it meets quality standards.'
Nigel is looking to new markets such as China and possibly Kazakhstan. He says: 'Our usual route to market is through trade missions but often these are short and need to be all things to all people, so exposure is reduced. But TVET UK specialises in education and skills training. For example, during a four day visit to Egypt with TVET UK we made contact with key decision makers in our sector, including ambassadors and advisors to the Minister of Oil, and have since submitted a proposal for building and renovating training centres. Because of the calibre of its contacts, TVET UK can put us in touch with the right people quickly. Membership is cost effective and helps to position us. We're less likely to waste time and effort when we embark on an event with TVET UK.'

@TVETUK
Upcoming Events
There are currently no upcoming events.