Case Study: 'TVET UK is playing a key role in finding suitable exchange partners' for Lanarkshire College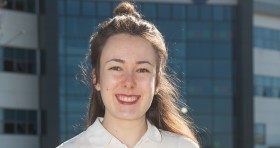 'TVET UK is playing a key role in finding suitable exchange partners' for Lanarkshire College
A TVET UK trade mission to Spain has provided South Lanarkshire College with new partners and a potential new income stream. International Officer, Lucy Flynn explains:
'Here at the College, we believe that developing partnerships with international institutions not only enables our students to boost their employability and employment options, but also provides positive benefits for the local community. Our international activity has traditionally focussed on Asian countries such as China, India, Sri Lanka, Nepal and Pakistan. We're now looking to Europe and the opportunities offered through the ERASMUS project and TVET UK is playing a key role in finding suitable exchange partners.
TVET UK has an excellent reputation within the VET sector, and membership is a great way of sharing ideas, contacts and good practice with like-minded organisations, as well as providing access to decision makers and budget holders that individual organisations are rarely able to achieve.  We decided to join the mission to Spain as we wanted to identify suitable organisations for exchange programmes and knew that we could rely on TVET UK to bring together bona fide potential partners – ready and keen to work with us.  And, following the TVET UK visit to Barcelona and Madrid in 2015, we are now working with three colleges in Spain – laying the foundations for an exciting new student exchange programme – something that TVET UK has made much easier for us.
'TVET UK can take you to the heart of opportunity but it is up to you to ensure that you make the most of this opportunity.  The hard work starts once you get back home – nothing is going to happen under its own steam!  We are now working with our new partners on matching curricula and the way we work.  We are sending our staff over to Spain and have welcomed a number of Spanish interns into the department.  We are currently focussing on tourism and hospitality & catering, make up artistry, hairdressing and accounts,  with a view to also developing exchange programmes for other courses and with partners in other countries in the future.  We hope to launch to students in the next academic year.
'Although, it is now down to us to make these partnerships work, it's good to know that that Matt and Alan are still on hand to provide any support we may need.  The team has taken the time to understand our plans and goals, and are keeping us informed about other suitable partners and activities that may be of interest.'
The photo shows Irene Pérez Soto from Universidad Europea de Madrid where she studies International Commerce. Irene is on a three month placement in the College's Marketing and International department. She is the second intern from this university and Lucy hopes that there will be many more to come.

@TVETUK
Upcoming Events
There are currently no upcoming events.