Case Study: TVET UK team opens ground-breaking national language Institute in Mauritania
TVET UK team opens ground-breaking national language Institute in Mauritania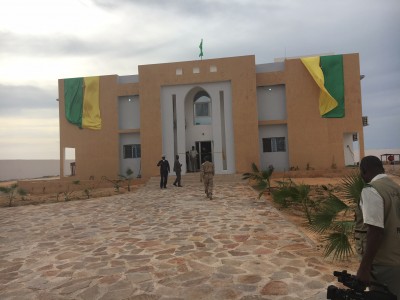 The Higher Institute of English, the first collaboration between Mauritania and the UK in the education sector, opens in July. Operated by TVET UK members, it will offer full-time degree courses and part time courses developed to meet the needs of Government Ministries, the armed forces, and local and international business.
The Institute is a major element in the government strategy to boost Mauritania's capability in international relations, including trade and commerce, and a showcase for UK educational expertise. Everything, from the furniture and books to the teachers and examinations, is provided by UK providers, organised by capable and experienced project manager, Graham McAvoy.
Graham is the Managing Director of Alligan, which has been establishing new schools and colleges and supporting existing ones for more than 20 years. Alligan is active in the UK and overseas, having set up more than 20 national academies and completed major projects in South Korea, India, Pakistan, Abu Dhabi, UAE, Libya, Algeria, Morocco and now Mauritania.
Graham has an active interest in the Maghreb and has travelled to Mauritania on a number of occasions, but never established any commercial connections there, so he was more than enthusiastic when Matthew Anderson, Executive Director of TVET UK, approached him about the project.
Matthew explains: 'TVET UK established a strong presence in FrancophoneAfrica with an office in Algeria and is developing relationships with embassies and ministers in similar countries, including Mauritania. On his visit to the UK, the Minister of Higher Education of Mauritania, Dr Sidi Ould Salem, invited us to tender for this project and we were delighted to find we were successful. I knew exactly the right organisation to manage the project!'
Graham says: 'I've known Matt for a long time. We know each other's organisations well and there is a good synergy between us. Matt has been looking for suitable opportunities for Alligan through TVET UK's international network and contacted us as soon as this opportunity arose. We are also keen to involve TVET UK members, Cambridge English, to ensure the world class quality of courses and graduates.'
With the first courses due to start in July, Graham and the team are busy making sure that everything is in place for the students. All books, equipment and furniture are being shipped over from the UK, and the Director of Studies and two senior teachers are due to fly out in May to organise the curriculum and timetable. More teachers will follow to prepare the undergraduate courses, which start in October.
Graham has been surprised and delighted by the success of the teacher recruitment campaign: 'There has been an amazing response both in the UK and in Mauritania, with high calibre candidates in both countries. Initially eight teachers will come from the UK, and we have received around 40 applications for these posts. We are now focussing on recruiting in-country, and will train the first 12 successful applicants at our British Institute for English in Algiers using Cambridge's CELTA qualification.'
In fact, Graham has been delighted with the whole project: 'This has been a fantastic opportunity to extend Alligan's presence in the Maghreb and to provide other UK education providers and suppliers with real commercial initiatives. The Mauritanian government has played a large part in the smooth progression of the project. Ministers could not have been more supportive and are quick to respond to queries and to make decisions. I am extremely grateful to TVET UK for putting us forward and for their continuing support throughout.'

@TVETUK
Upcoming Events
There are currently no upcoming events.